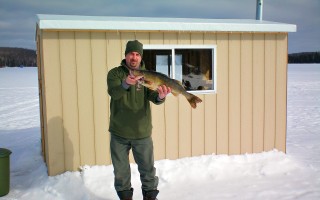 Lake Nosbonsing is fed by both Depot Creek and local springs and has the River Kaibuskong flowing out of the east and running into the River Mattawa.  Lake Nosbonsing is separated into two halves by narrows and each part of the lake having several beautiful bays to fish in.
Nosbonsing offers all of the fishing benefits of its larger neighbour, Lake Nipissing. However, it is much quieter making it popular with less experienced anglers or those not wanting to deal with the expanse of water of Lake Nipissing.
Every year, thousands of people visit the lake to take advantage of the great fishing.  Lake Nosbonsing is home to northern pike, white sucker, rock and smallmouth bass, pumpkinseed, cisco, perch, and of course walleye and muskie.
Walleye (Pickerel) are the main ice fishing attraction and create the biggest challenge to anglers.
Click on either of these links below for ice fishing stories and pictures at Big Moose Camp.
Ice Fishing Mid-Week                                      Couples Ice Fishing Mid-Week
We bundle our Ice Huts with a nice warm cottage for your Ice Fishing Adventure!!
Click here to see our ICE FISHING PACKAGES