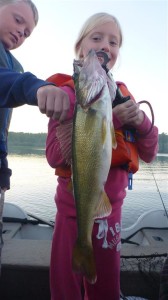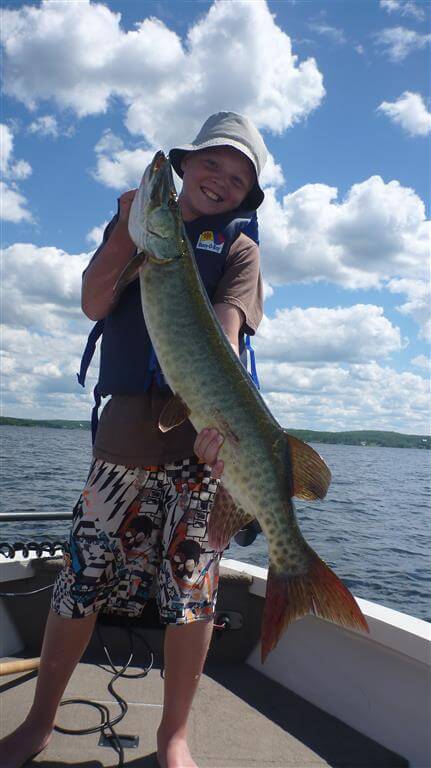 The summer season provides the best environment for fishing, with the serious angling beginning at the end of May. Trolling rapalas, kwikfish and driftfishing are all techniques that are used on the lake. Driftfishing makes use of live bait such as minnows or worms.
Muskie is a big challenge for visiting anglers as they are the largest fish found in Lake Nosbonsing. The Ministry of Natural resources have stipulated that muskie measured at less than 48 inches cannot be kept. This is to preserve fish stocks for future generations and ensure a larger muskie will always be found in the waters of Nosbonsing. It is thought that muskie weighing more than 50 pounds have been pulled out of the lake!
Popular spots for catching muskie on Lake Nosbonsing are Sunken Island and the Narrows. Fishing for pike is also gaining popularity in the area. Smaller pike can be found readily in the spring, however, pike as large as 38 inches are found every year by the most skilled anglers and often win the annual pike tournament.
Click on this link for Musky fishing tips on Lake Nosbonsing from the Musky Hunter, Jim Saric:   Big Moose Muskies
Nosbonsing is also home to bass, with the largemouth and smallmouth species found in good numbers. Smallmouth can be caught in most areas of the lake, however, the best chance of catching largemouth will present itself in Railway Bay, located on the north shore.
Fishing Tips for Kids  | Keep Canada Fishing | 2017 Fishing Regulations | 2017 Zone 11 Fishing Season and Limits
Lake Nosbonsing is located in Zone 11 and open year round. Please refer to Zone 11 fishing season and limits. And there are no exceptions to Zone 11 regulations for this lake.
Fishing Licence Renewal Online